Monthly Membership for
Petpreneurs + Pupfluencers
You work hard to give your dog a better life! But it's overwhelming to build a business on your own, keep up with social media trends, and cross everything off your to-do list.
How can you give your dog a better life if you're too burnt out to do anything with them?
3 MAGIC WORDS: COMMUNITY, ACCOUNTABILITY + DOGS!



It's amazing what you can accomplish when you're surrounded by the right people:
¬ Our community supports each other with their expertise in the pet industry.
¬ Regular virtual meet ups keep us all accountable to work towards big, exciting goals.
¬ There's nothing like talking to other people who understand what it means to be passionate about dogs. Society members get it!
Like dogs, we aren't meant to work alone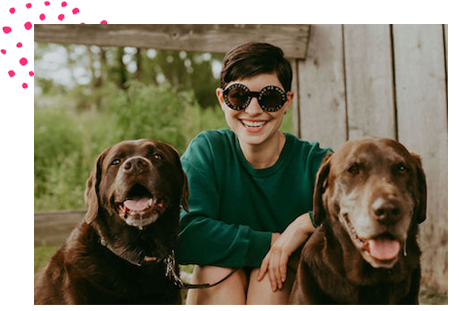 Wear Wag Repeat Society is a fun, inclusive and supportive monthly membership for women in the pet industry.
Each month, members can participate in interactive lessons, virtual co-working, Q+A sessions and networking in our private group.
Membership is Currently CLOSED
Join the Wear Wag Repeat Society waitlist and be the first to hear when it opens back up in the Fall!
Having a group of people tell you that you can do something and that they believe in you changes the way you see yourself!
SOCIETY MEMBERSHIP INCLUDES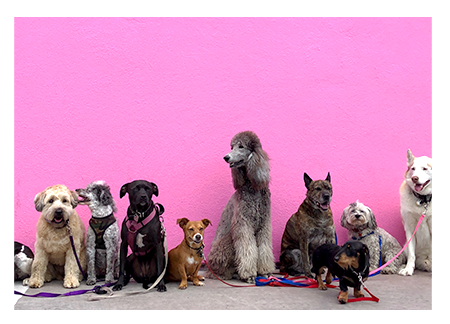 MONTHLY THEMES + SUPPORT
Each month, we focus on a theme such as blogging for SEO, growing your email list or pitching to podcasts. Tori provides a video lesson on the topic, PDF guide and 1-hour Q+A to support you in reaching your goals.
---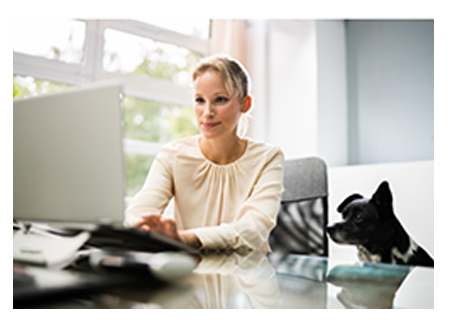 COMMUNITY + ACCOUNTABILITY
You don't need to struggle through this by yourself. Each month we have a co-working session via Zoom to help each other stay focused, celebrate wins, and share pawsitive dog vibes!
---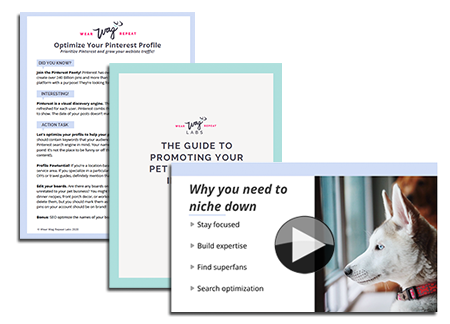 CORE CONTENT

Access Lesson 1 of my flagship online course, Instagram Strategy for the Pet Obsessed. You'll learn the value of niching down and the mindset to find riches in the niches! You'll also receive PDF guides about Pinterest and how to promote your products on Instagram.
---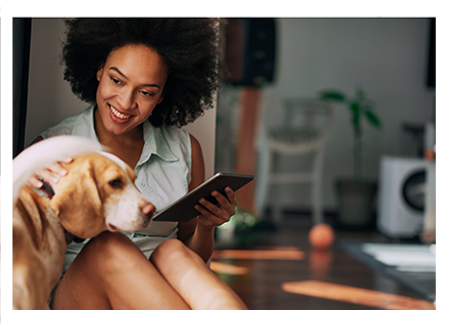 PRIVATE FACEBOOK GROUP
Ask questions, lend your own expertise and form friendships with Society members in the private Facebook group. Accountability is a major part of this membership! The Facebook group is where we'll check in with each other most often.
And that's not all!
Society Members get instant access to the archive of all the previous monthly lessons, bonus PDFs and recorded Q+A calls. Plus, an exclusive discount on all Wear Wag Repeat Labs courses like Instagram Strategy for the Pet Obsessed and Masterclass: Pinterest for Petpreneurs.

What current members are saying...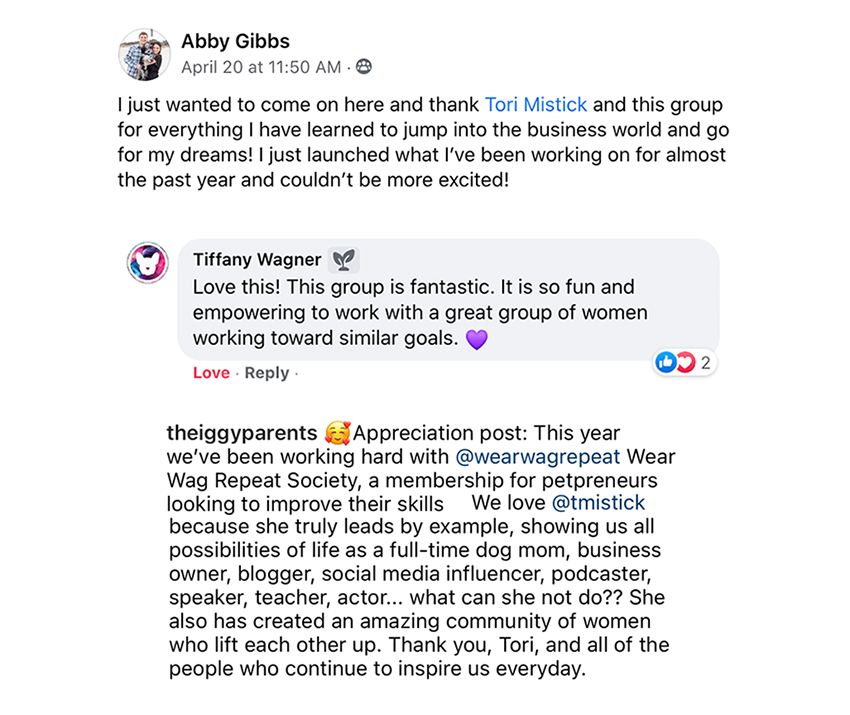 Join Wear Wag Repeat Society
Membership is currently CLOSED! Join the waitlist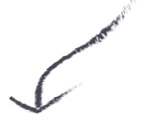 MEET YOUR PACK LEADER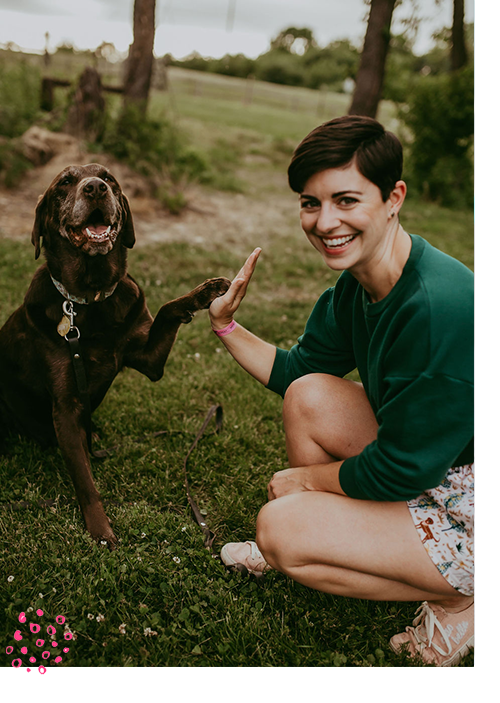 Hi, I'm Tori Mistick, the creator of award-winning dog mom brand Wear Wag Repeat. After growing my Instagram account to over 42,000 followers, working on dozens of brand partnerships, and being featured on GMA, BuzzFeed, AKC Family Dog Magazine, and The Wall Street Journal I wanted to find a way to offer something special to my followers. That's why I create educational resources just for petpreneurs.

Prior to Wear Wag Repeat, I worked for over a decade in digital marketing and social media. I also I host a 5-star podcast interviewing women in the pet industry.
I love helping pet lovers identify a strategic approach to build an engaging business that makes a pawsitive impact on in the lives of pets and their people.
Get a Feel for the Format
Want to know exactly what each monthly theme is? Take a look! The best part is that when you join, you get immediate access to the archives of every month so far! It's all included in your membership.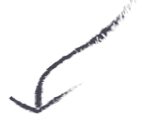 Each month is broken down into 4 week sections:
Week 1, you'll get a video lesson and PDF about the theme. Week 2, we'll have a live co-working session over Zoom. Week 3 will be all about implementation! Week 4 will feature a Q+A with Tori.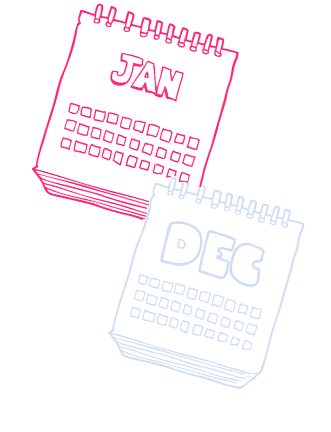 January About Pages + Bios
February Storytelling with Video
March Grow Your Email List
April Blogging for SEO
May Pitch Yourself to Podcasts
June Instagram Growth Challenge
July Write Better Captions, Emails + More
August Extra Income with Affiliate Links
September Pinterest Strategy
October Holiday Content Calendar
November Giving Back + Giving Thanks
December Year in Review + Schedge Pledge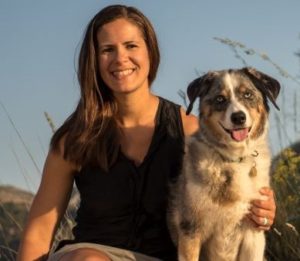 "Tori is a boss lady who is a social media and marketing pro. I appreciate that she shares her process for her own success with the group so that we can replicate what she did to get on our own path toward business growth.
I looked forward to the group calls because the members all contributed their own experiences to help me change perceptions I might have held about myself or my business. Everyone was so encouraging and kind!"
- Jen Sotolongo, Long Haul Trekkers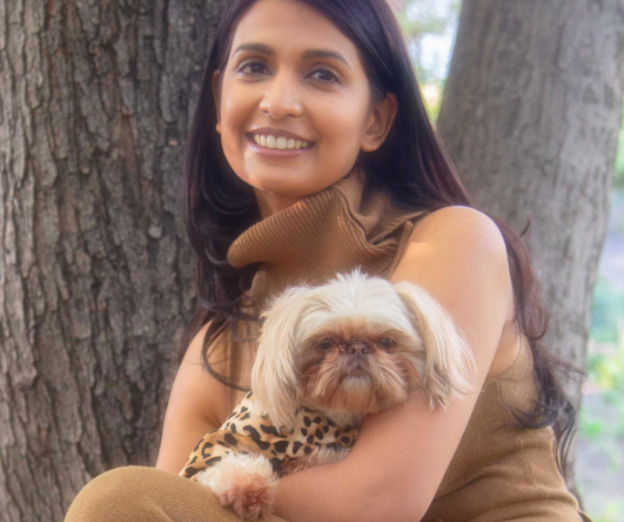 "The accountability is very helpful, as is finding a group of business owners in the same stage as my business. Tori did a great job of helping us create goals and holding us accountable. Tori is a great mentor and coach! I wish I had met her much sooner in my pet business journey."

- Sonali Nigam, Petminded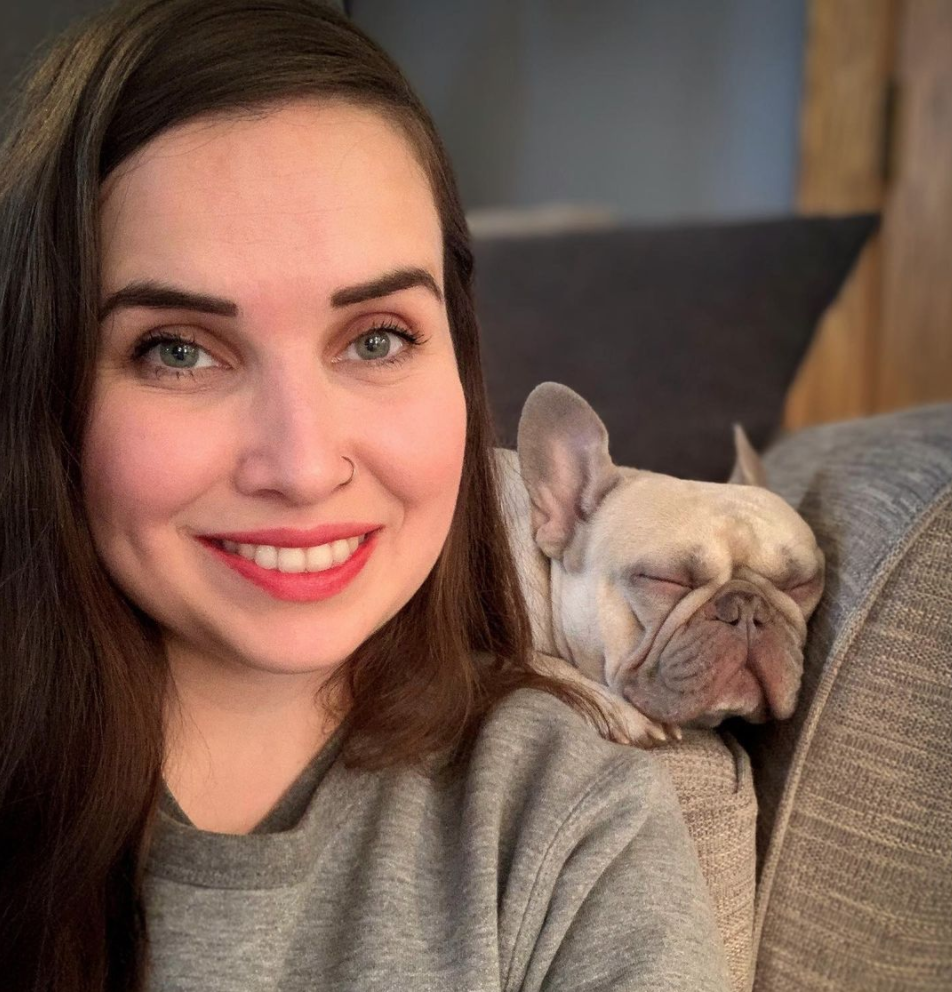 "I'm so excited to have an opportunity to join Tori's new Wear Wag Repeat Society so she can help me connect the dots I'm missing in my blog, social media, and basically all things dog mom related! She's all about supporting women and community over competition. It's hard to find people that want to help you grow and Tori is one of those people!"
- Tiffany Wagner, Peace, Love & Frenchie Farts
Join Wear Wag Repeat Society
Membership is CLOSED! Join the waitlist and be the first to hear when membership opens in the Fall!
Frequently Asked Questions
Can I join anytime?
Currently, the gates to enroll in Wear Wag Repeat Society are CLOSED! The next opening will be in Fall 2021.
What's your cancellation policy?
This membership is month-to-month so you can cancel at any time. Your membership will automatically renew on the same day each month. Please note that all memberships are non-refundable, so if you'd like to cancel, please give me 72 hours notice to make sure it's processed. If you re-join later it will be at the current membership rates at that time.
How do I access the materials and community?
Wear Wag Repeat Society includes PDFs, videos and recorded Q+A videos that will all be saved in the Wear Wag Repeat Teachable portal. This is the same place that all of my online courses live and it's a very easy to use platform! Monthly co-working sessions will be held live over Zoom. The community aspect of the Society is hosted in a private Facebook Group.
Does my membership include 1-on-1 coaching with Tori?
I'll be hosting all of the co-working sessions, Q+A's and will also be active in the Facebook group to answer questions and support you as you grow your pet industry business. While 1-on-1 coaching is not a part of this membership, you'll definitely have a lot of interaction with me and I'll be available to help you. If you're interested in more focused, hands-on coaching, that's also available by reaching out to me via email.
What is the time commitment of this membership?
You will want to dedicate about 3-4 hours to this each month. Each month's lesson will be a 10-15 minute video with a companion PDF. Over the course of the month, I estimate it would take you 1-2 hours to implement the tasks in the lessons. Monthly co-working sessions are 1 hour long and the Q+A the final week of each month is 1 hour long.
What kind of pet businesses do other members have?
We have a variety of people in the pet industry in Wear Wag Repeat Society! Some professions include dog trainers, pet sitters, artists, bloggers, podcasters, authors, shop owners, pet photographers, graphic designers and more! Some members work full time in the pet industry, while others pursue their passion on the side. All are welcome here!